The Bel of the IBC Ball and Other Delights
 With the holidays over and the kids back at school it's the time of year when we think of bikes, bars, beer and the buzz at the RAI. Yes, IBC is almost upon us again. Amsterdam here we come!
You'll be able to see a load of new products on the stands of the manufacturers that Aspen Media represents and if you're not going to be there, you can read about them below or in the next IBC issue of Touch! delivered to your Inbox next week.
Kind regards.
Sue Hurd
The Bel Of The IBC Ball – Bm-a1-64 Dante AOIP Monitor – 10.a30

Bel BM-A1-64DANTE provides an effective way of monitoring the audio present onDante™ networks in broadcast, live sound, fixed installation and recording studios.
It's compact, just 1U, and has front panel monitor selection from 64 input channels and single channel or 16 channel mix monitoring. The audio present on the front panel mounted speakers is also available as balanced analogue and AES3 outputs.
And, as you would expect from the Bel boys, BM-A1-64DANTE comes with full audio redundancy over a Gigabit Ethernet network and redundant power supplies.
Jünger Launches Audio Monitor For Immersive Audio – 10.a49
While you're in Hall 10 pop along to Stand 10.A49 where our friends from Jünger are dipping their toes in the Immersive and Object Audio pond. They are showing essential authoring and monitoring tools for anyone working in these new formats such as Dolby Atmos or MPEG H.
Regardless of the codec used, these tools will generate the essential metadata in the authoring and production process for such things as 3-D panning; and provide decoder and set-top box emulation to guarantee the results heard by the viewer. Read the press release here.

You'll also see Jünger Audio's range of audio processing and loudness management devices plus the D*AP 8 MAP EDITION that tackles 8 channel audio monitoring and loudness measurement and the 2 channel voice processor D*AP4 VAP EDITION, a vital bit of kit for Presenter, Continuity, Commentary and voice over applications.
JLCooper Introduces Big Daddy Ganged Control Interface – 8.b92
JLCooper GangWay32 is a massive 32 port RS422 Gang Roll Switcher and GPI Trigger Box that gives you simultaneous control of up to 32 VTRs, DDRs, or server channels.

Illuminated buttons on the front panel show a clear indication of the status of eachmachine and there's an RS422 port for a handy remote connection. You can add an optional Ethernet, USB, RS422 or 232 interface for remotely switching enables channels or as a source for controlling connected desks.
www.jlcooper.com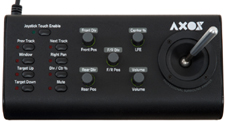 Regular
Touch!
readers will know that two of the latest products appearing on Stand 8.B92; AXOS, a surround panner for Pro Tools and Apple Logic Pro X and SloMo Mini, a compact four channel instant replay controller, have started shipping.
Stagetec Shows Enhanced Mixing Consoles – 8.c80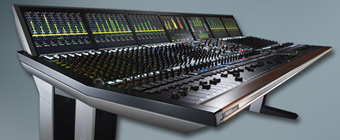 Those familiar with the AURUS audio mixing console from Stagetec will be very interested in AURUS Platinum which has the same tried and tested reliability that AURUS users appreciate but with a new design that's billed to provide even faster operation.
AURUS Platinum has a new flat meter bridge with high-contrast screens that make it very easy to read from any position and the desk can now include the ISOSTEM automatic upmix algorithm, a clearly laid out matrix mixer and de-esser.
www.stagetec.com
The next mixer down in size, CRESCENDO, has also been given the Platinum treatment with a new firmware release that provides an expanded input selection for each channel: A/B, A+B, scene automation with colour coded Scenes and extended Mosart control with support for different cross fade times.
Find Out More…
If you'd like a personal demonstration at BVE or more information about any of the products we supply, please call us 01296 681313 or email touch@aspen-media.com. We are always very pleased to hear from you.