IBC is just around the corner…
…and we'd like to give you a first look at what you'll see on the stands of the companies that Aspen Media represents; Stage Tec, DirectOut Technologies, Junger Audio and JLCooper.
If you would like to arrange a meeting with Sue Hurd and Chris Collings at any of our suppliers' stands please email touch@aspen-media.com or call us at the show. Sue's number is +44 7788 995747 and Chris's is +44 7836 324509. We look forward to seeing you there.
STAGE TEC 8.C80 – The New AVATUS IP-based Console
AVATUS is Stage Tec's newest most advanced IP-based console for broadcast, theatre and live sound applications. Communicating via standard TCP/IP Ethernet networks, it can be remotely controlled using a PC or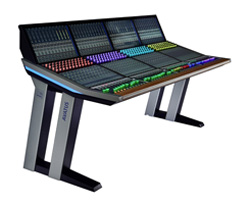 Mac connected via LAN or Wi-Fi allowing the control surfaces to access centralised core processing, run scene automation remotely and call up and store snapshots.
 Modular AVATUS is available with between 12 and 96 channel strips and can provide over 800 input channels and 128 sum buses in formats ranging from mono to 7.1. You can assign any colour to each of the desk's various functions and the faders and other controls adopt these colours as the workflow progresses. The AVATUS core is the famous Stage Tec NEXUS.
AVATUS is well worth a look so email touch@aspen-media.com to bag a slot for a personal demonstration on stand 8.C80.
DirectOut 8.E85 – SG.MADI SoundGrid<>MADI Converter
SoundGrid is a low latency uncompressed Layer2 Ethernet protocol from Waves for audio networking and real-time processing in live, broadcast and music production facilities. DirectOut

SG.MADI is a bidirectional SoundGrid to MADI converter that will be just the job for multi-stage venues wanting to connect MADI and SoundGrid consoles or for integrating outboard equipment and DAWs to a SoundGrid environment.

RAVENNA/AES67 users will be interested in the latest firmware update to DirectOut's MONTONE.42 MADI/Audio-over-IP bridge. The new HTML5 user interface has had a complete makeover; the new menu structure gives a full routing matrix between all MADI and AES67 channels and quick access to all relevant system and streaming information. 
www.aspen-media.com/directout-technologies-montone-42
A little bird tells us that in addition to SoundGrid and RAVENNA, DirectOut is introducing a third networked audio format at IBC. Best visit stand 8.E85 to get the lowdown.
Junger Audio 10.A49 – EASY LOUDNESS Does What It Says on the Tin
EASY LOUDN

ESS is the latest weapon in Junger Audio's loudness management armoury. It's a dual stereo Level Magic audio processor with true peak limiting and optional loudness logging. Fitted with SDI and AES IO, EASY LOUDNESS is the perfect choice for stereo broadcast ensuring consistent loudness is maintained from programme to programme.
There's no set-up, just plug-and-play. EASY LOUDNESS, yay! Let's all sit back with a cuppa and put our feet up!
On the IP front, Junger is introducing NETBRIDGE, a series of simple converters that translate established audio formats to networked audio. UHD-NETBRIDGE converts 4x 3G-SDI to MADI and Dante and MADI-NETBRIDGE is a bidirectional MADI/Dante converter.

The NETBRIDGE range will be available as 1U 19″ rack mounting or standalone units.
We're just scratching the surface here with Junger's new developments; come along to stand 10.A49 to see everything that those clever Junger guys have been up to.
JLCooper 7.C03 – ATLAS Programmable GPI Crosspoint Switch and Logic Processor
There are some people who will get very, very excited about ATLAS; System Designers with control, lockout and security problems for example. Others, me among them, perhaps not so much.

So, for the excited among you, ATLAS is extremely flexible. It accepts 24 GPI inputs and sums these using boolean expressions including AND, OR and XOR to generate GP outputs. It also includes output inversion delays and pulse. It has 24 TTL/CMOS compatible inputs and parallel opto-isolated inputs.
ATLAS is not on the top of my shopping list, give me a good pair of heels any day, but I'm reliably informed that it will prove to be a godsend for those in broadcast, streaming media networks and news production. Let me know what you think by emailing
touch@aspen-media.com
. 
http://jlcooper.com/_php/product.php?prod=atlas
If you're a Blackmagic ATEM user, you'll be interested to see the new JLCooper ion ATEM switcher controller on stand 7.C03. It's compatible with a whole host of ATEM switchers and gives you simple control of almost all ATEM functions and parameters quickly and smoothly. 
www.aspen-media.com/jlcooper-ion
And Finally…
If you'd like to meet up at IBC or to find out about any of the products we supply, please call the office 01296 681313 or email webenquiry@aspen-media.com. We look forward to hearing from you.